Why Choose Us?
Owner and operator, Dani Pinto, has been involved with horses since she convinced her parents of her dedication and determination to owning a horse when she was just 11 years old. Then she spent years training, competing, and working for other stables. At 17 she started competing in gymkhana and timed English Jumpers. Dani trained under Joan Norman, Richie Fisher, Joyce Prezebowsky, and Don Catalano.
She enjoyed it so much that she started training younger children to ride. Next she moved on to riding English Hunters and Jumpers. At this point she began showing Jumpers in the Long Island area. She started training Hunters and worked at several facilities including South Haven Equestrian Center and Outlaw Acres. As Dani's skills grew she became Stable Manager for facilities such as Bethpage Stable and Stonybrook Riding Academy. barrel racing competition.
This drove her to acquire her own stable in the Long Island area called Flash Farms. She ran it successfully for 15 years. Dani became well known for her gentle but firm training skills for both horse and rider. She is especially noted for correcting problem behaviors. Craving a more rural life, Dani purchased Top Notch Equestrian Center in January of 2003. Now she provides quality horses and horse related services to the Walton area and beyond.
Dani has always been a Border Collie enthusiast and people loving on her dogs always asked intriguing her to start breeding. She now breeds labradors and golden retrievers in addition to border collies. We breed and raise farm-family dogs that will fit into any lifestyle.
Dani is proud to have the help and support of her companion, Mike, and her son, Tony Vite. Both are dedicated horsemen. Their talents supplement Dani's in providing excellent care and service for horses, puppies, and riders.
Dani recommends TLC Pet Food for strong, healthy dog! It includes farm fresh, quality ingredients that you can count on for your dogs entire life! Try TLC Pet Food using my link and receive $5 off your first order!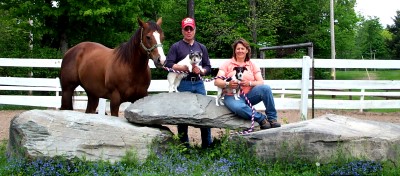 Top Notch Equestrian Center is a member of the following associations:
NBHA – National Barrel Horse Association
AQHA – American Quarter Horse Association
APHA – American Paint Horse Association
AKC - American Kennel Club
ABCA - American Border Collie Association
Have More Questions?